2019 Chevrolet Camaro ZL1 vs Shelby Super Snake vs Mercedes-AMG C63 S Coupe comparison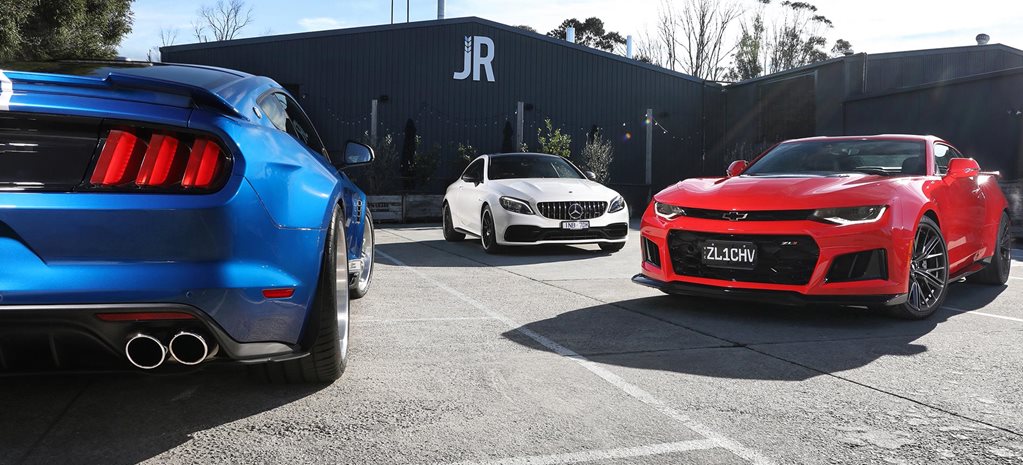 By Nathan Ponchard | Photos: Cristian Brunelli | MOTOR
Three takes on the modern muscle car coupe but there can only be one ultimate
Intimidation comes in many forms. Threats, blackmail, crowded shopping centres, the middle seat in economy, Mount Everest, an 800-horsepower Shelby Super Snake Mustang.
You could probably chuck a Chevrolet Camaro ZL1 in there too, because few people are going to feel instantly at ease with a seriously supercharged V8 sending shockwaves to its rear tyres, and it doesn't make me any less of a man to admit it. If you had to name a muscle coupe destined to expand the testicular mass of anyone behind the wheel, it's one of these Yank brutes.
Punters keen on this type of testosterone boost must be chuffed you no longer need to head Stateside to feel the burn. Thanks to HSV's converting talents, Chevrolet's ultimate Camaro is now right-hook-ready and perfectly poised to pick up where the GTS-R W1 left off at a somewhat eyebrow-raising $159,990. And, thanks to the column-shifting expertise of Mustang Motorsport, the thrill of a Shelby-enhanced Mustang Super Snake is also ripe for the taking, even in completely bat-shit crazy 'Wide-Body' form.
Without the full plumping treatment, the Shelby Super Snake is already a formidable 169 big ones. But if you want the Wide-Body booty, that's another $35K right there. And if 700hp (522kW) isn't worth getting out of your recliner for, there's an 800hp (596kW) alternative for $12,290 more, complete with additional wail courtesy of a Whipple supercharger.
And on our test car (the first of two – keep reading), let's not forget painted pearl-white gloss stripes ($11K), a torsen differential with 3.73:1 ratio ($5K) and $1950 worth of leather and suede interior alterations that transform this Mustang into a virtual $239,930 caricature of itself – albeit a hugely intriguing one.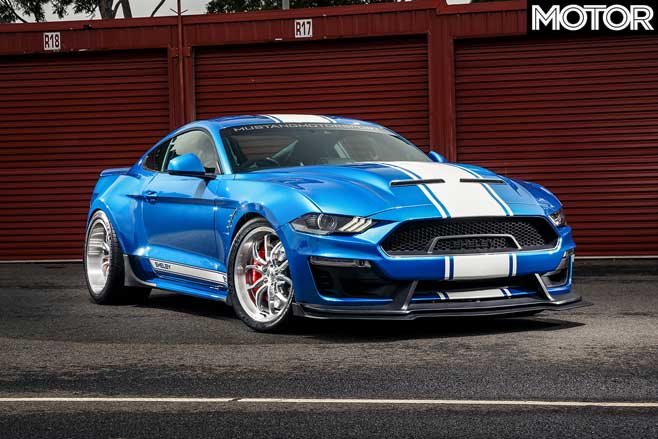 Alongside the berserk Camaro and bad-to-the-bone Mustang, Mercedes-AMG's updated C63 S Coupe almost seems a bit girly, as well as a bit of a bargain at $165,900 stock, or $191K as you see here, yet it remains the global benchmark for mega-tough V8 performance coupes.
Such is the popularity of AMG's bullish twin-turbo tearaway that it's more 'off the rack' than its limited-volume American rivals, though what you lose in exclusivity you definitely gain in refinement and all-round polish – especially this latest version with its smoother personality. But is that enough to make your heart race and your sphincter tighten?
Having lived with a 2015 C63 S sedan for almost a year, it's the politeness of AMG's latest weapon that strikes me first on a dawn blast to the edge of Melbourne. The way the sedan used to buck and bitch-slap over concrete road joins had already been partially alleviated in the original C63 S Coupe, but this version is even less abrasive, and surprisingly supple when the dampers are set to Comfort.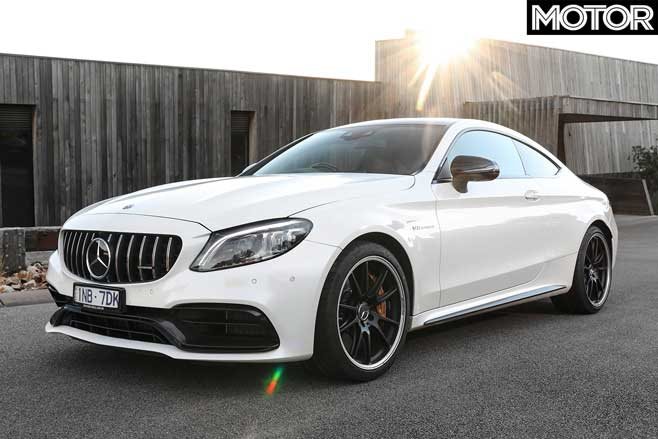 Apparently the 2019 C63 S also gets synthesised induction noise pumped through its Burmester stereo speakers, but I can barely notice it. What is abundantly clear is just how liveable and all-round glorious this AMG coupe has become in its older years.
It mixes bark with bite so damn well, and even though there's still a tonne of coarse-surface road noise – "That's how you know good tyres," my old man used to say – it's clear this is definitely the designer version of bad-arse.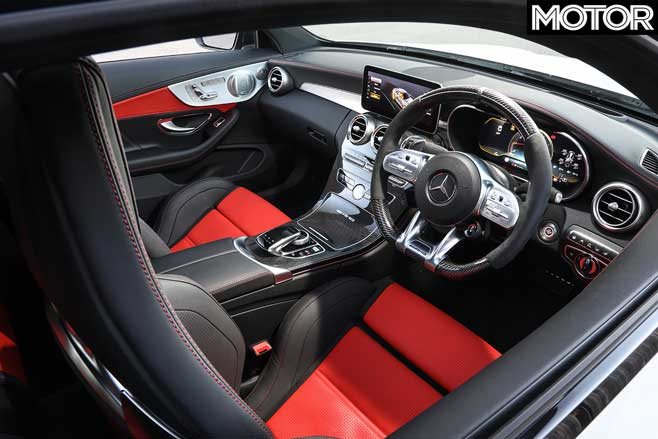 Pulling up next to our red Camaro ZL1, the diamond-white AMG looks almost demure. At 4831mm long and 1905mm wide, the flagship Chevy is a vision-filler, and the ZL1's aggressive cooling and aero package, garnished with guard-filling forged-alloy 20s in dark graphite make it appear almost Batman-esque. Where the C63's rear end elegantly tapers, the ZL1's swells right to the edge of its Coke-bottle hip line, its taillights doing a stellar interpretation of a '68 Camaro's.
And then there's the Wide-Body Super Snake. With an extra 2.5 inches (63.5mm) of front track and a whopping four inches (101.6mm) at the back, Shelby's burliest baby makes even the ZL1 look understated. It's so frigging in-your-face it's hard to believe the Wide-Body is even street legal (it is), and this car's optional '800hp' package means it packs the grunt to at least partly explain its unhinged appearance. But first, the ZL1.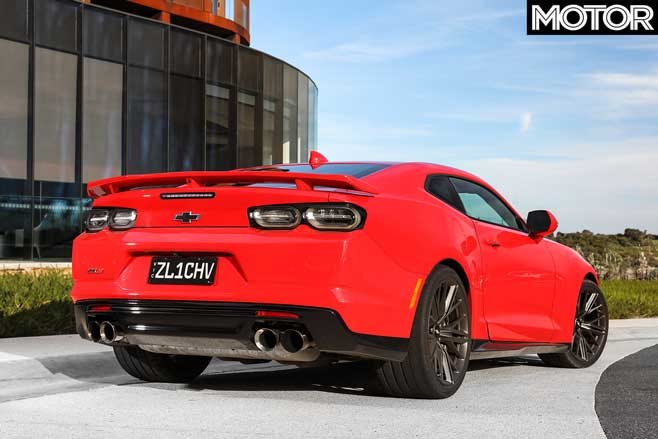 After the velvety sheen of the AMG, the Chevy immediately feels lumpier, chunkier and less forgiving. It similarly features adaptive damping, in this instance via magneheteorical units, and in standard Tour mode the ZL1 initially doesn't feel completely sorted. Its steering seems a bit vague, as if it missed out on an early-morning caffeine hit, and its vast 285/30ZR20 front tyres tend to tramline over uneven surfaces.
Our test car is wearing optional dealer-fit Goodyear Eagle F1 Supercar 3s – not the regular Continental ContiSportContact 5Ps required to meet ADRs – and their grooved-slick appearance isn't entirely suited to a foggy Victorian winter with an ambient temp not far above zero, so I spend the section up through Flowerdale playing with its suspension settings.
While Tour rides acceptably well in most circumstances, it lacks steering firmness in steady-state cornering. Sport feels more like a shot-putter's tune, with noticeably meatier steering weight and a more Braille-like connection with surface imperfections. And then there's Track, which is such a tough tune it's almost like the power steering has been disconnected.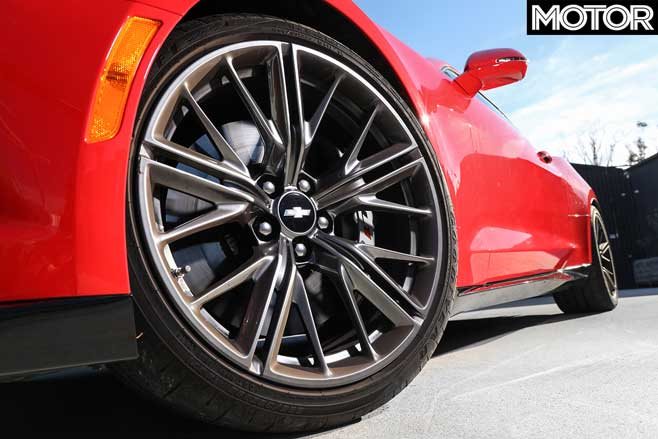 But its engine – a new direct-injection 'LT4' version of GM's 6.2-litre all-alloy pushrod V8 – is stunningly driveable, and that isn't a given when you're mastering 881Nm of torque at 3600rpm through a 10-speed automatic! It'll pull from barely above idle and feels beautifully progressive in its behaviour, yet packs a bassy undertone that increases in brashness the deeper you press the throttle. On these damp roads, knowing what's lurking under my right foot is almost achingly irresistible, but the ZL1 needs a straight road to unleash all its fury.
After the sweeping hills and curves of the outer high country, I head for the Super Snake. Walking up to it, you can't help grinning at the sheer audacity of its stockiness, and from behind the wheel, wincing at some of Shelby's cabin 'improvements'. The Super Snake's interior might fulfil the brief for those who still love hanging Autometer gauges from A-pillars, but for everyone else it's a textbook example of 'less is more'.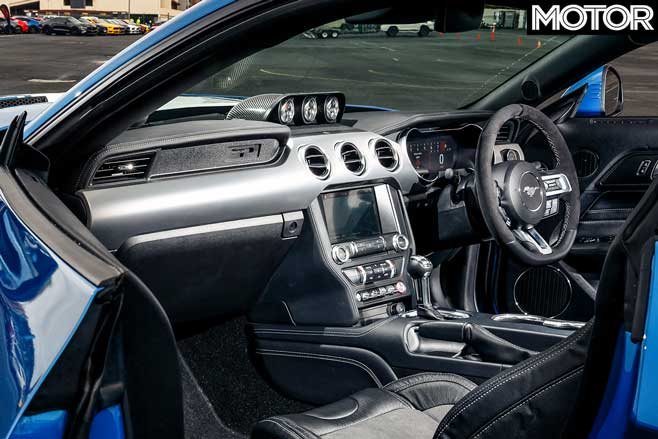 Alongside the Camaro's acres of tactile suede, deeply supportive buckets and consistency of design – however low-rent it may look compared to the AMG – the Shelby's ruched leather and over-plumped Recaros look and feel oddly aftermarket, with the electric seat base lacking enough under-thigh tilt and the lever-adjust backrest devoid of enough slots to achieve a perfect driving position.
But the Mustang's all-suede dished steering wheel seems better connected to its, ahem, 305/30ZR20 Michelin Pilot Sport Cup 2 front tyres (yes, really), and there's something charmingly unhinged about hearing all that supercharger whine infusing its bent-eight rumble. Again, you have to question why an engine producing a staggering 920Nm at 4500rpm needs 10 gear ratios – it doesn't! – though there's a degree of commonsense in the tuning of all this madness.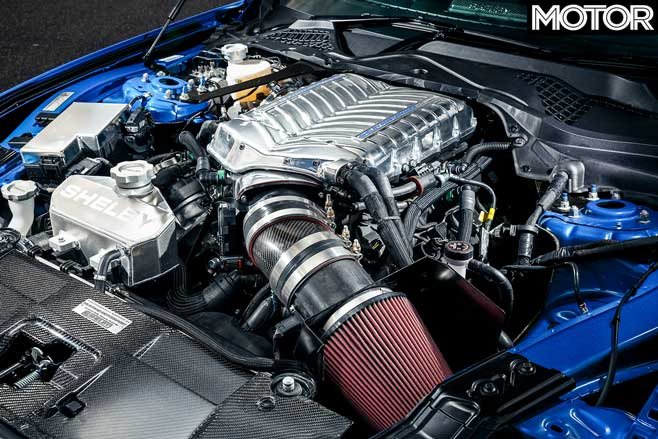 As we approach our back-to-back test road, I flick the Mustang's drive mode to Sport Plus and let the transmission do the shifting. It's too much. The 10-speeder is determined to keep the Shelby humming somewhere around 5500rpm, which might be fine for a racetrack, but on the road it seems to be avoiding the sweet spot of all that torque. So when I head out for a dedicated thrash, I chuck the Mustang's MyMode thingy into Sport Plus chassis, Sport steering and Racetrack exhaust, and do much of the gear-shifting with the wheel paddles myself.
Incredibly, Shelby's Wide-Body Frankenstein gels. On this narrow, undulating and challenging piece of road, the Mustang feels surprisingly tight and chuckable. Thanks to its massive 1731mm rear track and enormous 345/30ZR20 rear boots, there's tremendous corner exit grip – more than all but the truly mad would be willing to explore on a public road like this – and you can cover ground at warp speed without going close to extracting all 596kW at 7400rpm.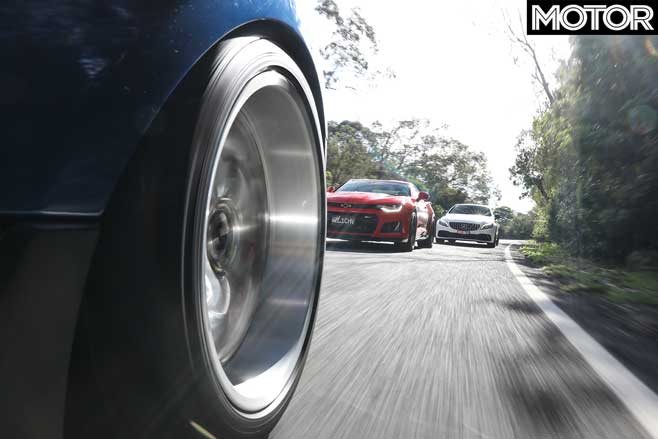 Gears three, four and five are all the Shelby needs to destroy most moderately tight corners with unexpected poise, and even though our test car's fixed-rate suspension jiggles around on bumpier corners, it's never enough to upset the car.
Mid throttle is enough to channel the vast depths of the blown V8's beef, supported by the forcefulness of a serious braking package (405mm slotted front discs with six-piston calipers, 380mm slotted rears with four-pot calipers). But it's only when the Shelby's nose is pointing straight and you mash the right pedal that you truly understand what muscle is at stake here.
There's a pause as the Whipple blower spools up, then an intense rush as the Shelby lifts its nose and tries to disappear into the distant scenery. It's not what you'd call progressive, but it is exciting and that's what buyers who go for the Whipple want. There's also the excitement of the engine continuing to accelerate for a moment after you've lifted off, which is at its most heightened the first time you experience it!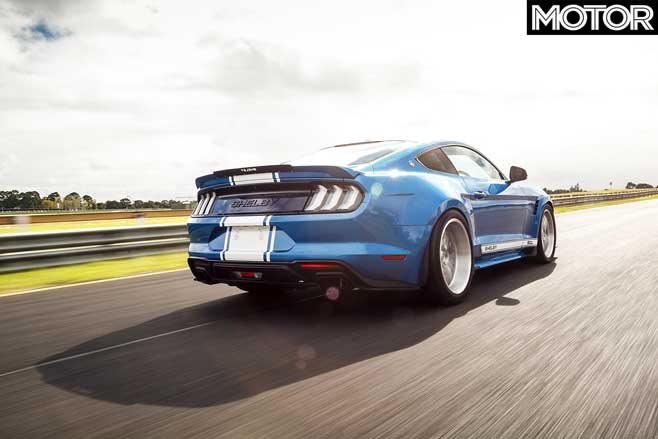 After the mild earlier disappointment of the Camaro ZL1 when trundling about, it's almost revelatory to discover the dynamic depth in this 477kW beast. The ZL1 feels lighter and smaller than the Mustang, and its larger-capacity blown V8 has much more immediate throttle response than its pumped-up rival, as well as a fuller, richer sound.
Some might miss the LT4's lack of accelerative drama because it doesn't have that 'here we go!' moment of the mega-boosted Mustang, but I much prefer the fact that at any stage, and any rev point, this phenomenal engine always has enough jammed up its sleeve to titillate.
Thumbs locked onto its flat-faced steering wheel, the Camaro's nose dives into corners with surprising energy, and even though its narrower 305/30ZR20 rear tyres suggest a comparative lack of purchase, it remains rooted to the road surface. I leave it in Sport, seeing that's where the ZL1's steering works best, and while it doesn't seem to ride quite as well, or perhaps feel quite as visceral as the Wide-Body Mustang, there's a suave cohesion to the Camaro that more than compensates.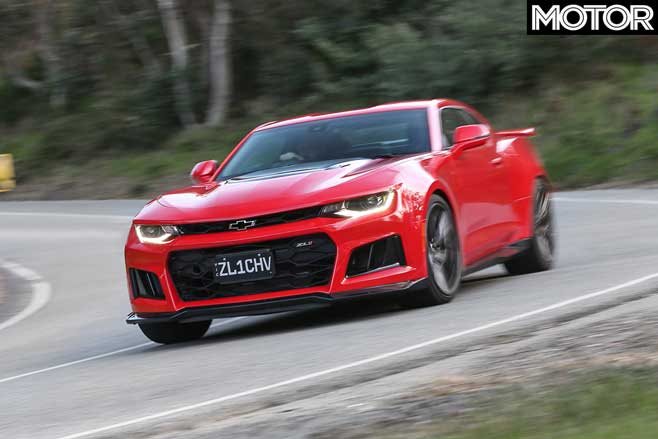 Covering the same ground in the C63 in Sport Plus mode, it's surprising just how much lighter it feels than the Camaro and Mustang, particularly its steering. Compared to the other brutes, the AMG's steering might actually be a little too light for some, but it's really crisp, making it an easy car to place and an easier car to drive hard. And the fluency! The C63 almost glides between corners, lifting onto its toes and dancing with a level of poise that's been polished to a silky sheen.
Neither of the Americans can match the deliciousness of the C63's exhaust crackle. Whether you're manually clacking away on the wheel paddles or letting the nine-speed auto do the shifting itself, the AMG's gratuitous ignition-cut bark remains a stand-out among its many talents, though its 375kW/700Nm twin-turbo 4.0-litre doesn't feel quite as muscular as the other pair, and it lacks the seductive graininess and outright brutality of the ZL1's V8.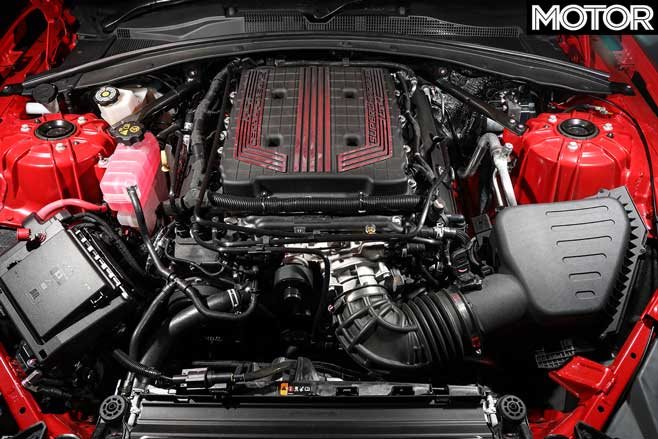 That impression plays out at the drag strip. The surface at Heathcote has never been particularly forgiving of big-power two-wheel drives, especially on cooler days, and even the AMG's combination of well-calibrated launch control with neatly balanced power and torque outputs falls short of the 3.9sec-to-100km/h acceleration claim. It takes close to half a dozen runs to build up enough heat in its rear tyres for a super-clean run, and even then it's only 4.4sec to triple digits and a 12.4sec quarter at 192.8km/h.
The ZL1 is much harder to launch, but jeez it's quick! We don't have the time to experiment with its multi-adjustable launch control, and don't have the surface grip of Holden's Lang Lang proving ground, or VHT, to make the most of what it has, even on cup tyres, but there's no doubting the ZL1's enormous thrust.
Despite our best efforts, and having TC in Race, as soon as first gear breaks traction the auto 'box short-shifts and grabs second – delivering a less-than-ideal 4.3sec to 100km/h. But from there on it slingshots ahead.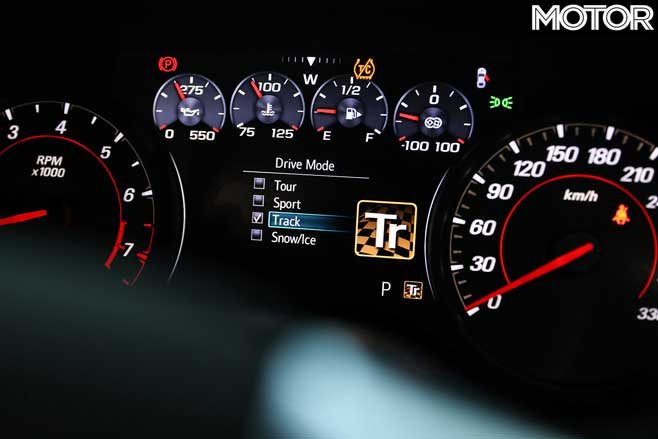 The ZL1 is so quick it shifts around unnervingly and follows surface irregularities, but its trap speed at the quarter mile is proof of its pace – 12.1sec at 201.4km/h. Likewise its rapid 80-120km/h time of 2.1sec, beating the AMG by 0.1, and its outstanding braking performance of just 31.3m to pull up from 100, twice in a row. Its picks may not have the pedal feel of the Mustang's, but there's no doubting their effectiveness.
The Super Snake isn't quite so fortunate at the strip. Even its first run sees it coughing on the upshift from first to second and sending a puff of grey smoke out its rear pipes before gathering speed at the upper end in fearsome style. Once there's heat in the tyres, it clocks a sole quarter-mile run of 12.6sec at, wait for it, 197.7km/h before its PCV valve fails under the extreme boost – sucking oil into the intake, fouling the plugs and sending plumes of grey smoke from the rear.
If you're doing serious racetrack work, Mustang Motorsport recommends a catch-can, with a check valve to prevent the engine from ingesting oil. Unfortunately, our initial test car wasn't so equipped and had to retire hurt.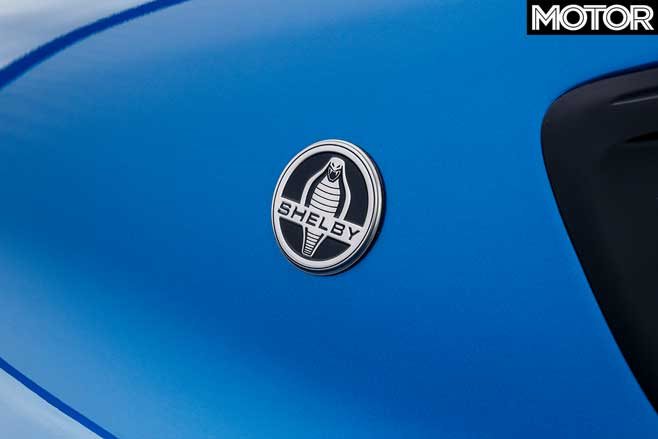 If it were me doing the choosing, I'd avoid the slug of Terminator 2-style molten Whipple metal whining under the 800hp Mustang's bonnet and stick with the much more factory 700hp version, though the real success here is the fact you have the choice between the two. Or a Camaro ZL1 or C63 S Coupe.
That said, for all its brawny bravado and in-your-face visuals, this mad-bastard Mustang doesn't quite achieve what its price tag says it should deliver. From the outside, it's the performance car equivalent of fitting every Nasco accessory to an HK Monaro, though I can see why many people love it. And from the inside, it's a step or two beyond the taste and restraint of a regular Recaro-equipped Mustang.
Yet there's a shitload of good going on with that widened chassis. On the right road at the right moment, it's a frigging riot. But it falls well short of the cohesion of the ZL1 and C63.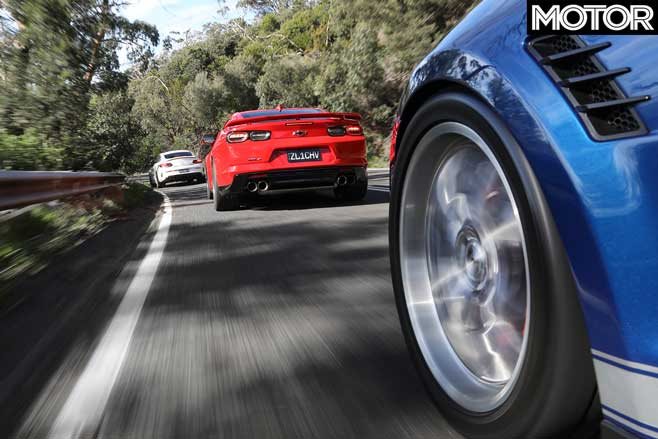 The Chevy and AMG are dramatically different in the way they drive, while delivering similarly thrilling outcomes. The ZL1 proves that a hugely overpowered blown V8 can have crisp throttle response and superb all-round driveability, as well as surprisingly agile dynamics, while the C63 S Coupe proves that the hot-rod gene is alive and well in Affalterbach, even though elements of that menace have been rounded off.
In purely rational terms, the C63 S Coupe has to win here. It's far and away the best all-rounder, both in terms of what it can do – like seat four people and drink surprisingly little fuel on a highway cruise – and its accessibility from a driver's point of view. Then there's the excellence of its Burmester stereo (though the ZL1's Bose system runs it close) and the seamlessness of its cutting-edge technology.
Still, the longer and harder you drive the Camaro ZL1, the greater the seduction, however twisted that lust may be. From the blare of its exhausts to the bite of its superbly engaging chassis, it's a shit-tonne of intimidation wrapped up in a loin-aching design that's so much friendlier than its murderous-bikie facade suggests. General Motors might be all at sea in 2019, but the Camaro ZL1 is GM at its finest.