Whipple Supercharger Kit for Mustangs from Mustang Motorsport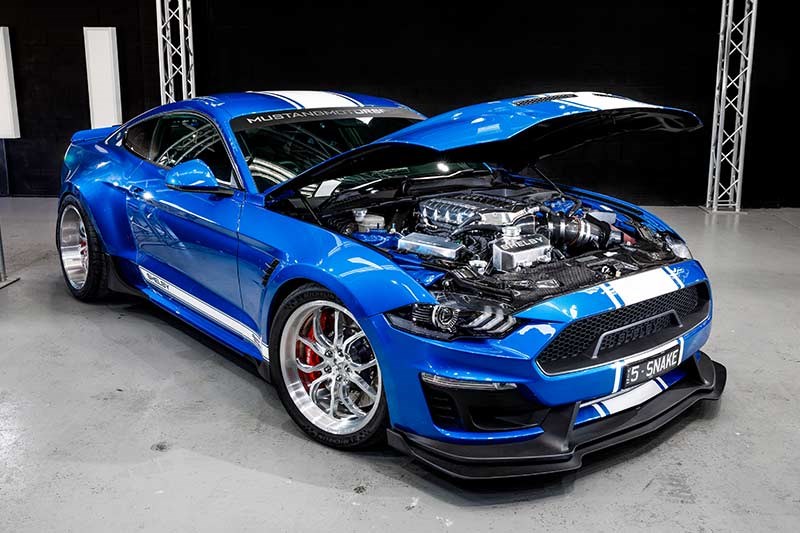 By: Alex Affat, Photography by: Nathan Jacobs | Unique Cars
While 800hp isn't impossible for a backyard builder, this Melbourne powerhouse blurs the lines between OEM-quality and aftermarket performance
The go-fast game has moved on over the years, in leaps and bounds, with aftermarket technology allowing once-unimaginable power figures to be now accessible to almost anything with four wheels, depending on the size of your wallet. But while the numbers game has leapt firmly into the 21st century, the same age-old risks apply.
Backyard builders could easily approach 800hp in a capable package like Ford's new Mustang, but no one wants to grenade the engine in their brand new pride and joy – and the local modifier won't give you a three-year/60,000km warranty.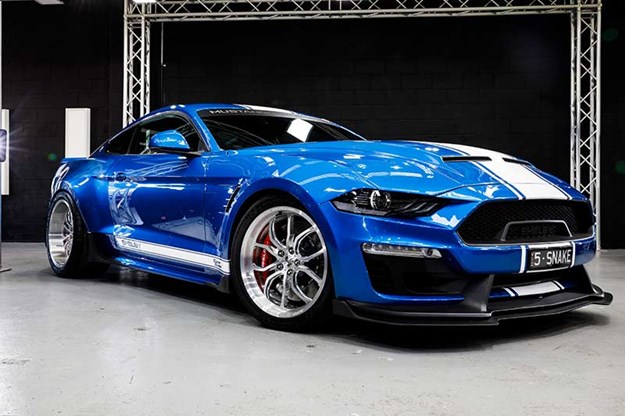 Super Snake performance for a fraction of the price
So where do you go for the hot-rodder performance blended with an OEM level of finish, and complete ADR compliance coverage in all Aussie states? Mustang Motorsports in Ferntree Gully, Vic, reckons it answers the question perfectly for late model pony car owners. Billed as the country's premier Mustang specialists they're busy churning out insane vehicles for power-crazed customers from all over the nation.
They say it's as easy as drive-in/drive-out: all you have to do is buy a new Mustang (starting at $62,990 for the 5.0lt manual) and head for their petrol-head candy shop. With one of their numerous out-of-the-box blower kits, in three to five days you'll have your car back with almost enough horsepower to spin the earth backwards. In this post-local-manufacturing era, they make a compelling case for all would-be HSV and FPV owners looking for their fix of supercar-killing grunt.
A couple of Bullitts in for force-feeding
We dropped by recently to look at their latest kit from Whipple. They've had a relationship with Whipple superchargers way back before the Blue Oval brought the reborn Mustang to our fair shores.
The Stage II Gen 3 Whipple kit was previously exclusive to the GT350 Mustang, or from the factory if you lived in the US and bought into Ford's CobraJet program.
You can talk to Mustang Motorsports about an entry-level Stage I kit, however James Johnson from Mustang Motorsport points out the false economy of Stage I compared with Stage II.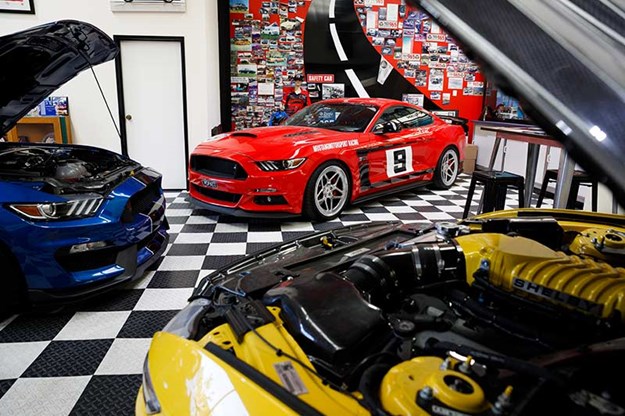 Mustang Motorsports is the proverbial candy shop for Mustang fans
"Stepping up from Stage I to Stage II sees you buying two sets of injectors, a whole new intake and new supercharger pulleys; by the time you buy all that twice, it's just better value overall for the customer to go straight to Stage II," he says.
Whipple's products are unique in their unrivalled research and development – they're the most advanced and powerful system available yielding the highest power-per-pound of boost on the market. The 2.9lt supercharger kit needs no supporting mods other than what's in the box. Once fuel injectors are added, and a tune – you've got massive power in an otherwise factory-fresh car, all covered by that warranty.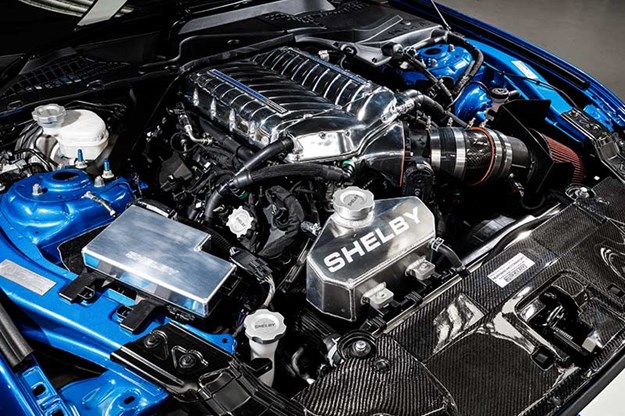 Chrome or painted? You can have whatever you like
"The value in these kits is in the testing, and knowing that they're reliable," said Johnson. There are options however, a 10-rib billet belt option allows for better overall cooling and efficiency and is recommended for those with automatic gearboxes – which can be prone to belt slip due to the erocious gear changes. The 10-rib is also recommended for those interested in more spirited driving beyond the usual road use. Mustang 10-speed autos are somewhat notorious for overheating, but in this application along with the recommended trans cooler – the pony car specialists haven't had any warranty issues reported.
The packages are tailored to suit the customer. Oil coolers are generally recommended but not essential, and beefier axles are available to those wanting to light up the drag strip.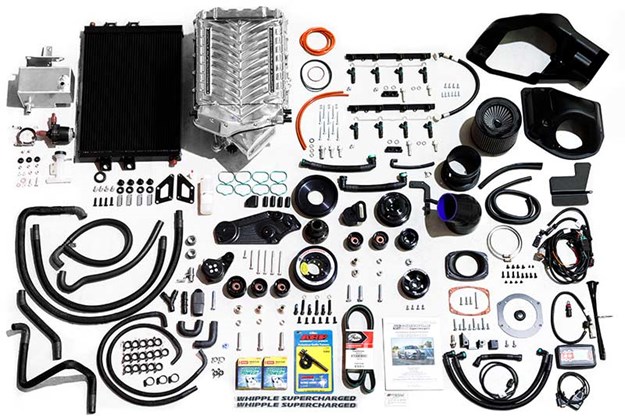 Some assembly required, tools not included
"There's a lot of merit in these packages, in terms of the yields and price – we do a lot of these big Roush builds and Shelby SuperSnakes or Shelby GTs, but a lot of that involves the styling and exclusivity," Johnson added.
"Just take a standard 5.0lt Mustang, throw one of these packages on; and you've got performance to rival the best of them… lower it with a set of wheels, and you've got yourself a really cool thing!"
Mustang Motorsports blurs the lines between aftermarket tuner, and a true OEM-level developer rivalling the likes of larger household names. The kits are emissions complied in all Australian states so you need not fear about getting grounded with a defect notice.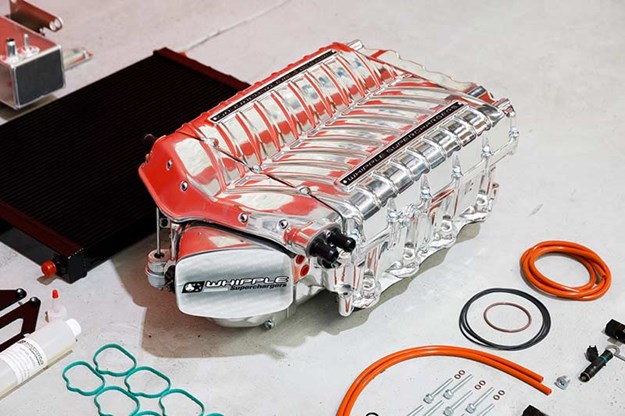 The gearbox and engine calibrations are fully developed to near OEM levels of driveability and refinement. However, the calibrations are locked, so they'll know if you've tampered with it – obviously voiding your warranty which only applies if fitted by Mustang Motorsports, or any of their partners around the country.
Overall it's an attractive proposition: Pick up a 5.0lt Mustang for say $70,000 on road, and add on $23,650 fully fitted and warrantied by Mustang Motorsports – and for under $100,000 you have a brand new car with all the bells and whistles, with over 800 horses ready to gallop.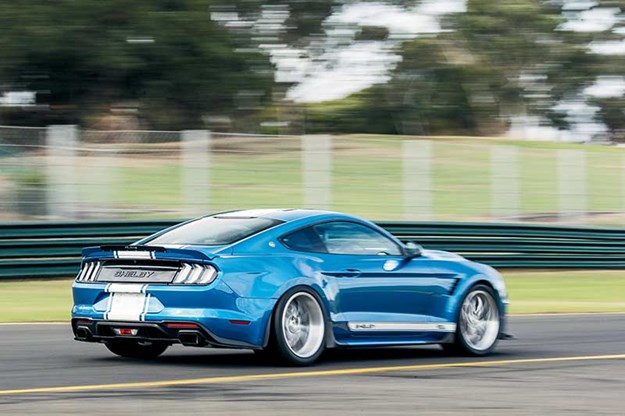 Track-proven performance
There's absolutely nothing else you can buy new for that kind of bang for buck. And in the most technically capable Mustang chassis ever, the healthy dose of extra snot takes the retro muscle car ethos and lands it firmly into modernity.