2020 825HP CARROLL SHELBY SIGNATURE SERIES MUSTANG
The 2020 model Carroll Shelby Signature Series Ford Mustang will be introduced by Shelby American, a wholly owned subsidiary of Carroll Shelby International Inc, A total of 50 limited-edition sports cars will be available USA and A very limited number will be available In Australia through Mustang Motorsport the Australian Shelby Mod shop. This new Special Edition Mustang will be available in a choice of convertible or fastback, automatic or manual transmission all with 825 street legal horsepower.
"The limited edition 2020 Carroll Shelby Signature Series Mustang is the ultimate combination of exceptional design and amazing brawn," said Gary Patterson, president of Shelby American. "From its refined, yet functional styling to its poised handling and awesome power, this is the most polished performance car in Shelby American's history. With its performance capabilities, this Shelby is the automotive equivalent to a champion ultimate fighter who looks as good in a tux as he performs in the ring."
The Shelby American team spent the past two years carefully engineering and refining the car to create a vehicle worthy of Carroll Shelby's name. They worked closely with Ford Performance and other partners on the new vehicle.
The Shelby Signature Series Mustang features a Shelby-specific tuned suspension, up to 825 horsepower, high flow exhaust and new brakes. The car's bodywork may be the element most noticed by enthusiasts.
"The body was widened with high quality aluminium fenders to create a 'square' footprint," said Vince LaViolette, Shelby American Vice President of Operations and Chief of R&D. "This allows the one-piece forged Monoblock wheels and Ford Performance tuned MagneRide suspension to maximise the incredible power churned out by the supercharged 5.0L motor. The ram air hood, front fascia and bodywork were all carefully sculpted to both tame the air and dramatically drop under hood temperatures. The fit and finish are unbelievable, making it as stunning at rest as it is in motion on the road or track."
The new model will be shown for the first time in the Shelby Tuscany exhibit at NADA from February 14-16. All limited-edition super cars will be identified by special badging and will be listed in the official Shelby Registry. The cars can be ordered in any standard 2020 Ford Mustang colours.
"There are many aspects to performance, which is why we addressed every aspect of the car," said Patterson. "We spent enormous energy to maximise speed, reliability and consistency. These enhancements will enable the Signature Series Shelby to perform flawlessly lap after lap and mile after mile."
The Carroll Shelby Signature Series Ford Mustang will be available through select Shelby dealers across North America. A limited number will be built by select Shelby mod shops and distributors internationally. Individuals interested in these or any other Shelby vehicle can visit Mustang Motorsport or contact them on 03 9753 5799 This email address is being protected from spambots. You need JavaScript enabled to view it.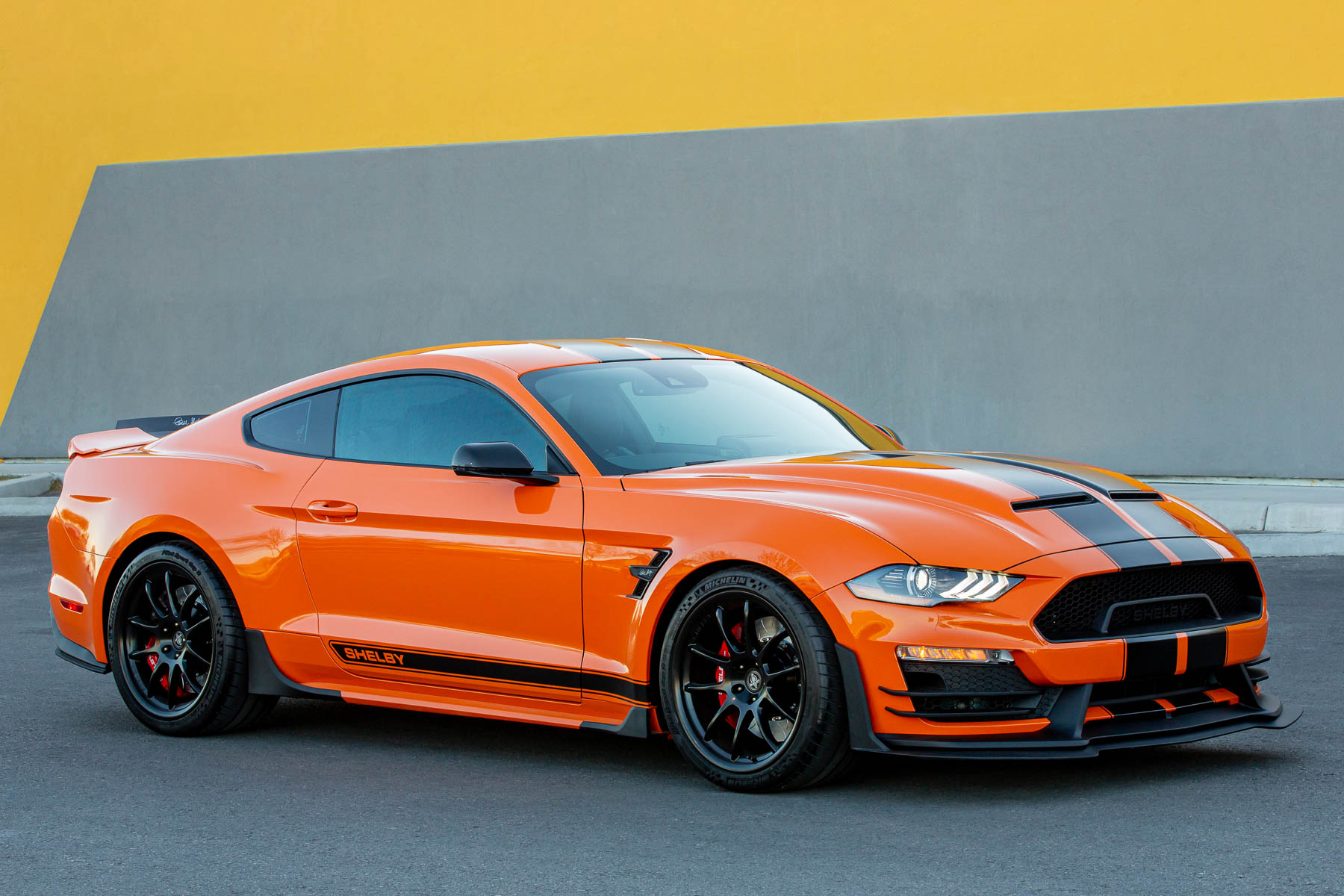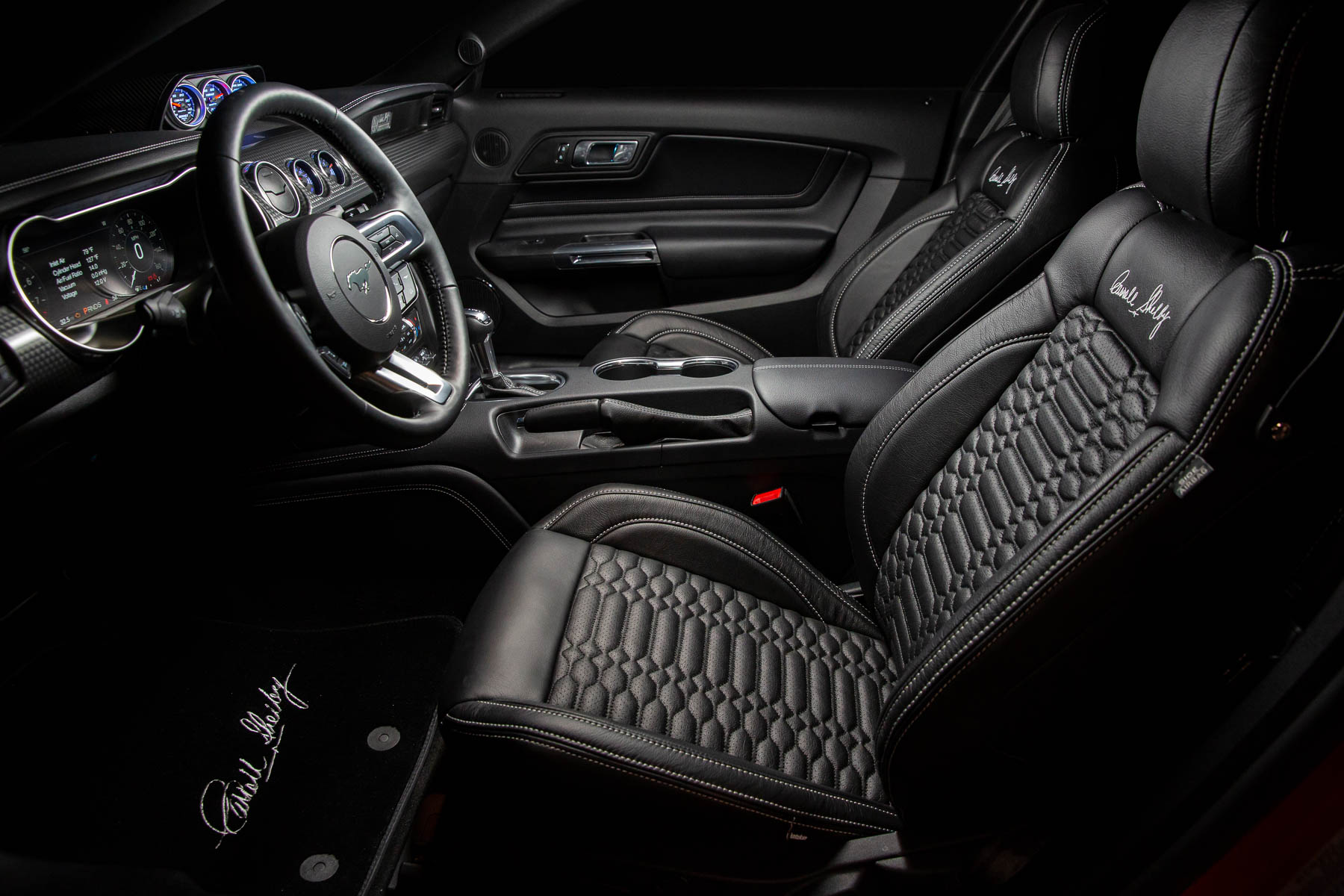 ---
2020 Carroll Shelby Signature Series Mustang Specifications
Performance
825 horsepower Shelby by Whipple supercharger system (post-title sales only)
Shelby extreme cooling (radiator, aluminium tank, heat exchanger)
Performance half shafts (Axels)
Transmission cooling (automatic only)
Short throw shifter (manual only)
One-piece drive shaft (manual only)
Ford Performance wheel studs
Ford Performance MagneRide handling pack
20"x11" forged aluminium wheels; one-piece monoblock forging in black or polished
Shelby performance spec tires
Shelby by Borla exhaust system, custom tips
Shelby by Brembo brake system (6 piston front and 4 piston rear)
Shelby exclusive brake & bearing duct cooling system
Interior
Shelby spec interior upgrade
Floor mats and door sill plates
Gauge cluster with gauges
CSM badging (engine and dash)
Engine cap set
Exterior
Shelby engineered body components:
Front fascia assembly with air managed ducts and grilles
Rocker panels and rocker wings
Aluminium front fenders with extractors
Metallic ram air hood with vents and extractors
Striping, badging, deep tinted windows
Rear diffuser, tail panel and rear spoiler
Optional Features
Painted stripes
Shelby Wide Body package
Rear seat delete and harness bar
---
About Shelby American, Inc.
Founded by legend Carroll Shelby, Shelby American, a wholly owned subsidiary of Carroll Shelby International Inc. (CSBI:PK), manufactures and markets performance vehicles and related products. The company builds authentic continuation Cobras, including the 427 S/C, 289 FIA, 289 street car, Daytona Coupe and Shelby Series 2 component vehicles; it offers the Shelby GT, 1000, Super Snake and Carroll Shelby Signature Series Mustang post-title packages for the 2005-2020 Ford Mustang. Shelby American also offers the Shelby Raptor, Shelby F-150 Super Snake and Shelby F-150 trucks. Heritage cars include the continuation 1965 Shelby GT350 competition model, 1967 Ford Shelby Super Snake and 1968 Ford Shelby GT500KR. For more information, visit www.shelby.com.
About Mustang Motorsport
Founded By Craig Dean Mustang Motorsport have been Australia's leader in the import, conversion and upgrade of late model Mustangs for over two decades. With the release of the all new Mustang in 2015, we commenced our upgrade and enhancement services for the new model. These include being a the only Australian SHELBY Authorised Mod Shop. Mustang Motorsport can upgrade your Mustang to become a full SHELBY Special edition models under licence with the team at Shelby American. These include iconic models such as the SHELBY GT and Super Snake and more!