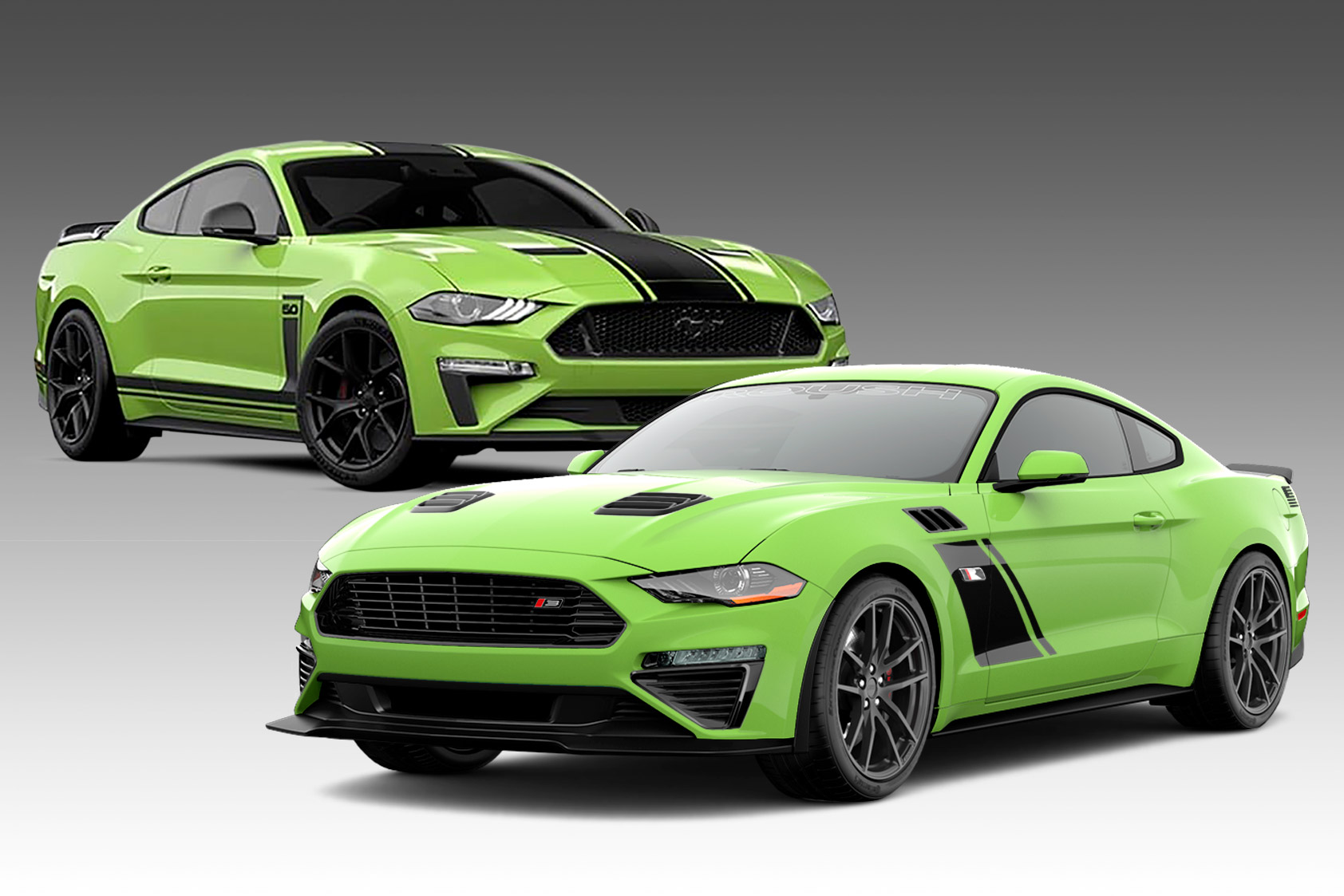 FEATURE & SPECIFICATION COMPARISON: 2020 R-SPEC vs 2020 ROUSH RS3
The 2020 Mustang R-SPEC and 2020 ROUSH Stage 3 Mustang may appear relatively similar at first glance, but there are a host of fundamental differences between the two models. From differing power outputs and suspensinon tuning, to interior upgrades and availability of colours, bodystyles and transmission, we have put together the ultimate feature comparison between the two.

2020 R-SPEC Mustang
2020 ROUSH Stage 3 Mustang

SPECIFICATION

FEATURES

SPECIFICATION

6-speed Manual only
Transmission
6-speed Manual or 10-speed Automatic
Fastback only
Body Style
Fastback or Convertible
4 choices only

Colour
10 choices (any 2020 Ford colour)

ROUSH/Ford Performance Phase 1
700hp (522kw) / 610lb-ft torque (827nm)
Supercharger
ROUSH PERFORMANCE PHASE 2
750hp (560kw) / 670lb-ft torque (908nm)
Standard Engine Radiator only
Engine Cooling
Standard Engine radiator


ADDITIONAL AUXILIARY ENGINE RADIATOR


(mounted behind passenger side functional corner pocket)
28% more frontal surface area
28% increase in radiator volume
ROUSH LTR (in front of radiator)
Supercharger Cooling
ROUSH LTR (in front of radiator)


ADDITIONAL AUXILIARY LOW TEMPERATURE SUPERCHARGER RADIATOR


(mounted behind driver side functional corner pocket)
32% more frontal surface area
22% increase in low temperature radiator volume
None (manual)
Standard Mustang (automatic)
Transmission Cooling
TRANSMISSION AIR SCOOP COOLER (manual)
LARGER TRANSMISSION COOLER (automatic)
65% more frontal surface area
84% more transmission cooler volume
None
Differential Cooling
DIFFERENTIAL COOLER
When diff fluid temperature reaches 85ºC differential cooling system automatically activates until fluid temperature is reduced to 79ºC. This helps maintain a consistent differential temperature in extreme driving conditions
None
Under Hood Temperature Control
FUNCTIONAL FENDER VENTS
reduce under hood temperature by 14%
Ford Performance MagneRide® Handling Pack with Lowering Springs & Sway Bars
Suspension
ROUSH-calibrated MagneRide® Suspension with Lowering Springs & 3 Drive Modes – Street (comfort), Track (Stiff), Drag (launch control)
Herrod Performance Active Cat-back Exhaust
Exhaust
Standard Active Exhaust System (ADR approved)
(optional: X-pipe & H-pipe post title upgrade +$650)
19" Ford Performance Black Wheels
Wheels
20" ROUSH Forged Agate Gray Lightweight Wheels
Standard Michelin PS4S
Front 255/45R19, Rear 275/40R19
Tyres
Continental ContiSportContact 5
Front 27535R20, Rear 275/35R20
(optional: Michelin PS4S +$500)
Black Grille Pony
Black 5.0 Fender Badges
R-SPEC Decklid Badge
Badging
RS3 Grille Badge
'R' Fender Badges
ROUSH Blackout Decklid Panel
Numbered Engine Block Badge
Numbered Interior Instrument Panel Badge
1 of 500
Serialized Build Number
Numbered Engine Bay Plaque
Numbered Interior Instrument Panel Plaque
1 of 300 (worldwide)
Black Over-the-Top Stripes
Black Side Hocky Stick Stripe Decals
Graphics & Styling
Stage 3 Graphics Package with Racing Slash
(accent colour in Red, Black or Silver)
ROUSH WIndshield Banner
USA Flag Graphic
(optional: Over-the-Top Stripe +$1200)
GT350 Black
Rear Spoiler
ROUSH Matt Black
R-SPEC Park Lamp Curtains
Bumper
ROUSH High Flow Corner Pockets (functional cooling)
Standard Mustang
Upper Grille
Exclusive ROUSH High Flow Upper Grille (gloss black)
Standard Mustang
Lower Grille
ROUSH Lower Grille with Illuminated ROUSH logo on LTR
Standard Mustang
Front Splitter
ROUSH Functional Splitter with Wheel Shrouds
Standard Mustang (gloss black)
Hood Vents
ROUSH Hood Heat Extractors (gloss black)
Standard Mustang (gloss black)
Mirrors
Standard Mustang (factory colour)
Standard Mustang
Rear Valance
ROUSH Rear Valance Aero Foils
Ford Performance Scuff Plates
R-SPEC Projection Puddle Lamps
Accessories
ROUSH Illuminated Door Sill Plates
ROUSH Logo Projection Puddle Lamps
ROUSH Trunk Mounted Toolkit
ROUSH Key Fob
ROUSH Engine Bay Dress-up Kit
ROUSH License Plate & Frame
ROUSH Certificate of Authenticity
Standard Mustang
Interior Trim
Premium Leather Seats (front & rear) with embroidered ROUSH logos, fitted to Standard or RECARO seats
Black Ford Performance Shift Knob
Transmission Controls
Red ROUSH Shift Knob (manual)
Red Billet Alloy Shift Paddles (automatic)
ROUSH Billet Pedals – throttle, brake, clutch (manual) & footrest
Standard Mustang
Brakes
Standard Mustang
(optional: TrackPack BREMBO Pad & 2-piece Slotted Front Rotor upgrade +$2200)
5 year/100,000km factory warranty
Warranty
5 year/100,000km MMS/ROUSH driveline warranty
2nd Stage Compliance Plate (Australia-wide engineering compliance)
ADR Compliance
2nd Stage Compliance Plate (Australia-wide engineering compliance)
Average on road sale price $115,000 - $120,000*
(*estimate only. Prices vary from dealer to dealer, and registration fees and taxes vary from state to state)
Price
RS3 Package $58,000 + Base Mustang $68,000 = $126,000*
(*estimate only. Registration fees and taxes vary from state to state)
SUMMARY:
The 2020 ROUSH RS3 features great value for money with 50hp and 60lb-ft of torque over the comparable package on offer, with matching ADR compliance and 5yr/100,000km warranty. Additional cooling packages ensure the ROUSH Stage 3 Mustang can handle the heat of high performance driving, giving you more peak performance laps at the track.
The custom ROUSH-calibrated MagneRide® suspension system switches through different modes, providing a comfortable ride on the street and a sharper focused calibration for the track. Put it into 'Drag' mode to launch the car in a supercar-matching 11.2sec quarter mile (in the automatic)!
Unique functional styling on the 2020 ROUSH Stage 3 Mustang set it apart from the pack with the high flow upper grille, hood vents and fender vents finished off with your choice of graphic accent colours - all on any Ford colour or body style of your choice.

For 2020 ROUSH left no stone unturned, now featuring Premium Leather Seating, pedals, shifters, boot-mounted tool kit, ROUSH Key fobs and much more - making sure the new ROUSH Stage 3 Mustang is the most complete package possible.
Talk to the team at Mustang Motorsport today about building your ultimate performance Mustang.