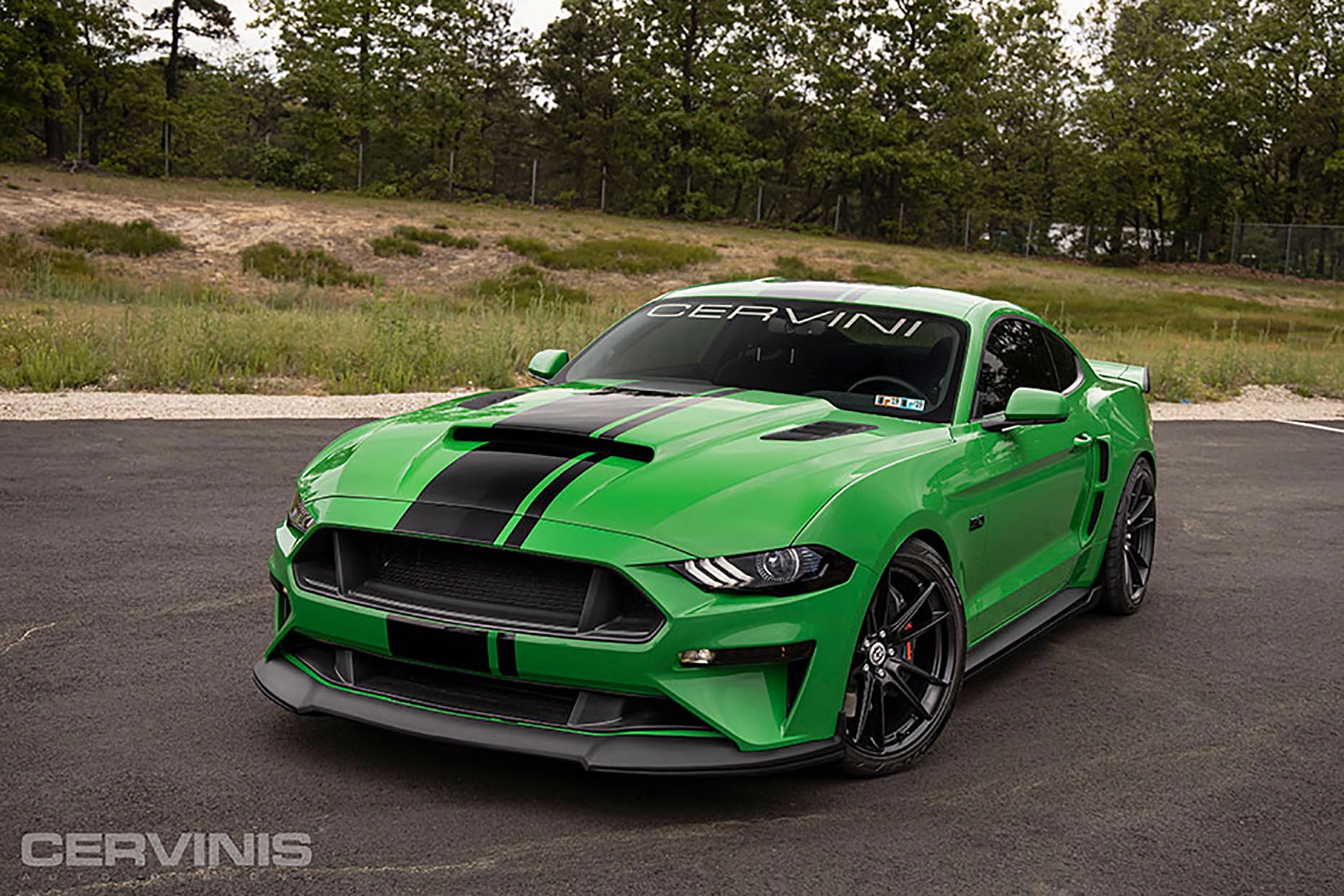 A few things about... HOODS
Call it a hood, or call it a bonnet - can an American car have a bonnet? Whatever your terminology, that thing that sits over your engine can have a big impact on both your Mustang's appearance and performance.
First and foremost, the hood (we'll call it that) can dramatically change the appearance of your Mustang quickly and simply. You look at it pretty much all the time, whether you are outside the car or in, so it is an attractive item to upgrade. A different style hood can also greatly affect airflow either into or out of the engine bay to improve your engine's performance.
---
APPEARANCE

Depending on your preference, a new hood can be a sleeker and more elegant interpretation of the standard factory design, or a bold in-your-face upgrade.
The Trufiber A83 hood is a good example of a sleeker design. Its subtle bulge gives the Mustang a tougher appearance while also providing plenty of space for a supercharger. The four heat extraction vents with integrated stainless steel mesh provide far better heat extraction than the standard factory hood. Its carbon fiber construction not only makes it light and strong, but it can be used as-is with the carbon fiber on display for all, or painted for those who prefer a more subdued appearance.
Other styles, such as the Shelby Super Snake or some of the Cervinis Ram Air hoods provide a far more aggressive in-your-face appearance with large air intakes and more pronounced bulges and shapes.
---
PERFORMANCE

The hood can improve performance in different ways. The most important is getting air into your engine or heat out of the engine bay. It can even have an effect on your car's overall aerodynamics (albeit slight at road speeds). As mentioned already, heat extraction is an important function for modern performance cars, and more so for supercharged vehicles - even the standard factory Mustang hood has them!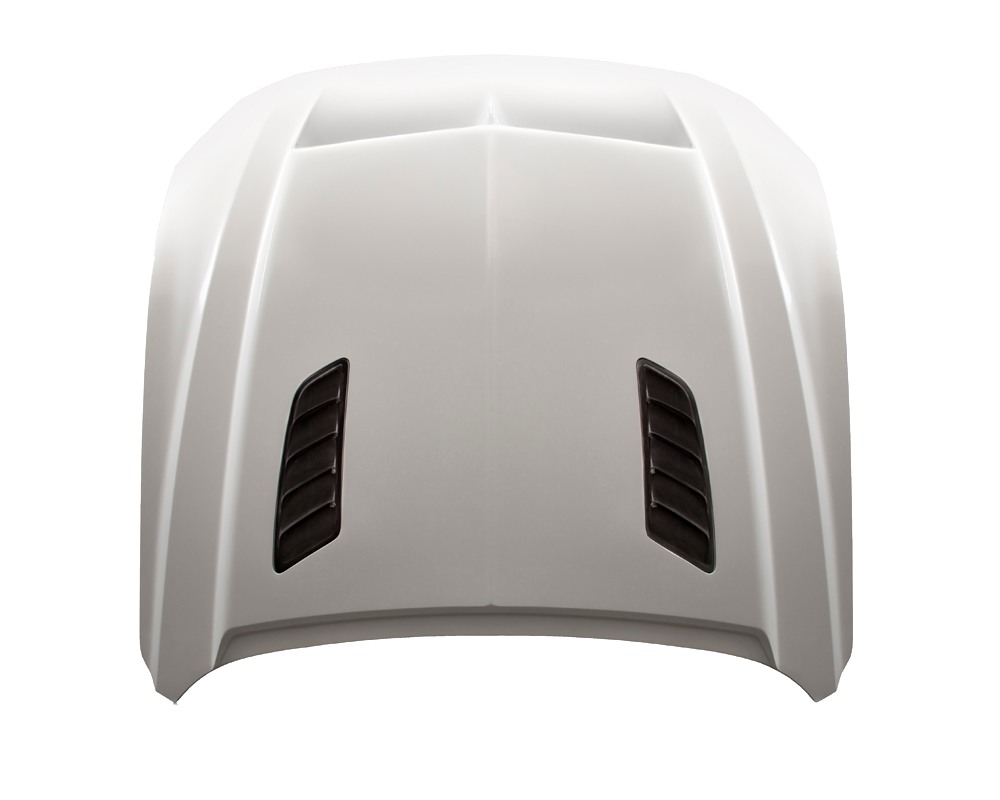 Keeping your engine bay cooler helps maintain optimum performance from all components, ensuring you have more power available in all conditions. Most of the hoods we have available provide improved heat extraction over standard, with one such as the Trufiber A88 Heat Extractor Hood being a more extreme example. Its three large heat extraction 'areas' (they are a lot bigger than just 'vents') ensure any extreme performance Mustang's engine bay stays as cool as a cucumber in all conditions.
The other area where a hood can enhance your Mustang's performance is getting more, or cooler, air into your engine. Many hoods are referred using terms such as 'ram air', indicating that they not only allow more air in, but also use their design to increase the air pressure going into your Mustang's intake system, thereby improving its performance. The Trufiber A72 Ram Air Hood is a good example of a simple design which greatly improves the airflow into the engine, with air entering the air scoop being directed to the OEM airbox location. Its two larger air extraction vents also improve airflow and cooling in the engine bay.
---
MATERIALS & CONSTRUCTION

There are three main materials a hood is constructed from - metal (steel or aluminium), fiberglass and carbon fiber (we've decided to stick to the American spelling of 'fibre').
The traditional go-to for lower volume body panels is fiberglass. It is strong, can easily be moulded into attractive designs and complex shapes, and is cost effective to produce in smaller volumes. Fiberglass must be painted to match your car's colour, or maybe in a different colour for a bold look!
Carbon fiber is significantly lighter than fibreglass - typically around 30% - and stronger. But these benefits come with a price premium. If you are after a bold look, many carbon fiber items can be used with the exposed carbon fiber on display for all, saving on paint cost.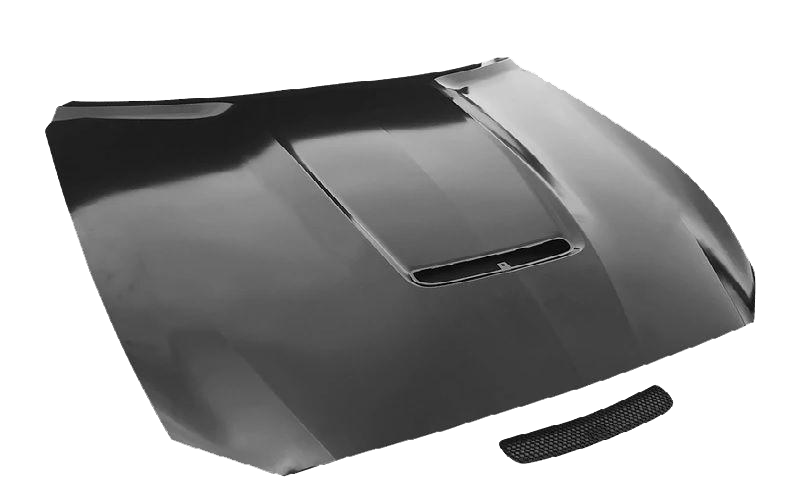 Pressed metal hoods are typically manufactured in higher volumes, so there are fewer designs and styles available. The Flexx range of aluminium hoods provide improved performance and weight saving. Painting is obviously required for these products.
---
CONCLUSION
Hopefully this clears up a few things regarding hoods (or bonnets if you prefer!). Mustang Motorsport has the largest range of late model Mustang hoods in stock in Australia. Whether you wish to enhance the appearance, performance – or both – of your Mustang, we are sure to have the right hood for you. Check them out online or give us a call today.
Not only can we supply and fit your new hood, but our own in-house paint department can paint it to match your car. You can also add some over-the-top stripes, which can be done in house at the same time.
All Hoods Mustang Motorsport sell can be approved for VASS plate or engineering plate in any other state in the country.
---