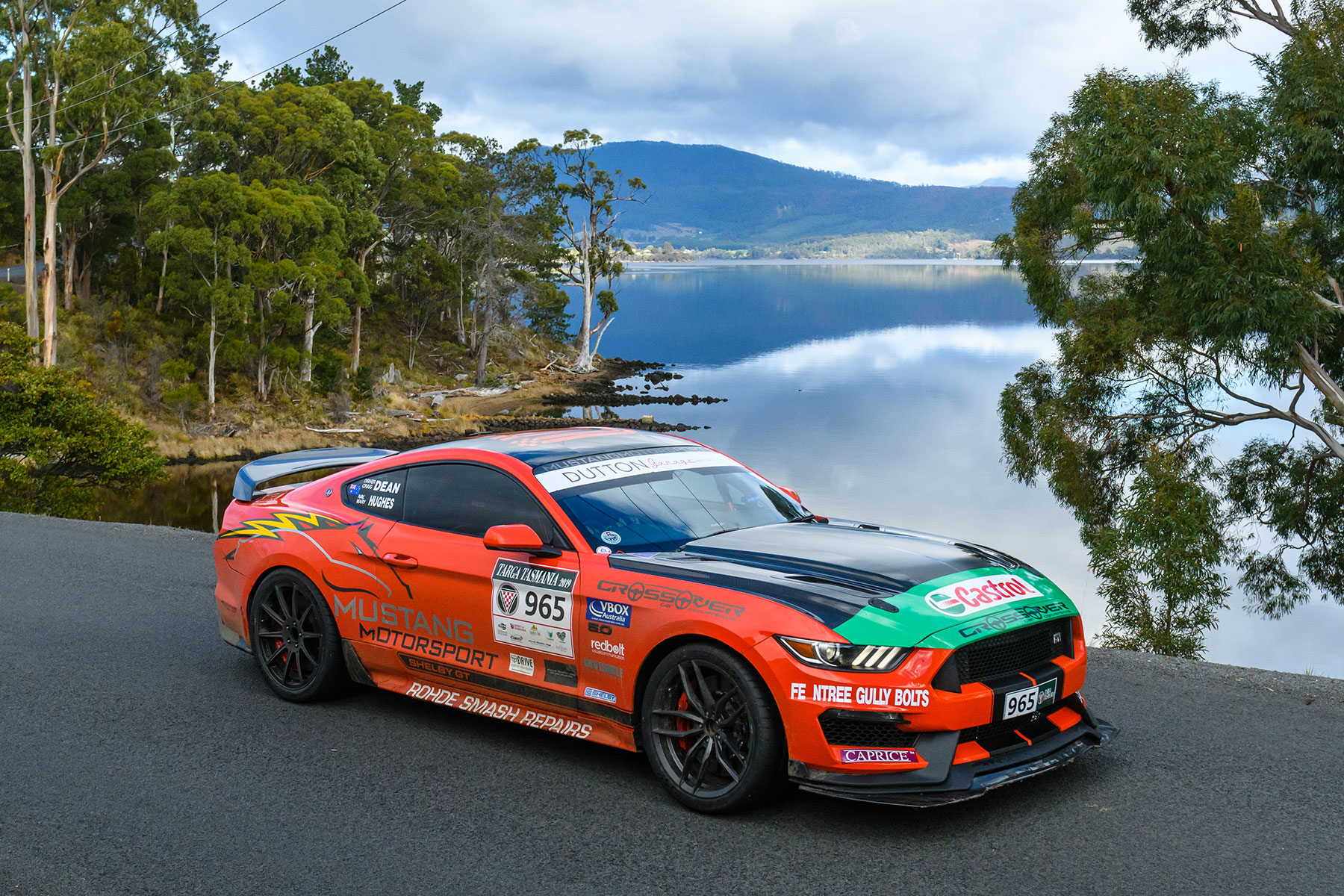 Targa Tasmania 2019 - Day 5 & 6
My favourite stage of this year's Targa Tasmania was Reece Dam in Leg 4, and our fifth place finish had us all revved up for the remaining two days of competition. Day 5 Targa Tasmania is a big day with six stages into Hobart, including Strahan and Mt Arrowsmith which, at over 52km, is the longest stage of the event.
The rain was coming down very heavily at times, so more wet stages which would make the 33km of Strahan a bit of a challenge. Unfortunately the challenge was too much for team Mustang. Approximately 8km into the stage, the low grip road surface and water across the road caught us out and we spun off and got bogged in a swamp. As far as we could see there was no damage, but while being dragged back onto the road by recovery we suspect something happened under the bonnet and oil started to appear. So it was a tow truck ride to Hobart for the car, and a ride in a van with a couple of entertaining competitors from WA for Craig and Mary - and hopefully not too late a night for Aaron and Craig fixing the car so we can be back in it tomorrow. The ride to Hobart was a little slower than hoped, however it was great to chat with some of the unfortunate crew who destroyed their cars.
After arriving in Hobart to fix the Shelby Aaron bypassed the intercooler and then it was off to the car wash and parked up for the night in MAC 02 carpark. The Targafest was on with lots of people and we handed out and signed heaps of our posters for the young ones (and some older ones!).
We woke to an overcast morning with lots of low clouds for the final day of competition. The first stage, Tinderbox, was dry with some slight wet patches. The Shelby was running well and we made it through in tenth place. Pelverata was up next - bumpy and slippery when wet. As we turned up at the start line, down came the rain!
As we continued through the day, the clouds appeared to follow Mary and I. No rain in the touring stages, then as soon as we stopped to get ready the rain came again!! Longley, the last stage of the day, was damp but had reasonable grip. We claimed seventh position, and Mary and I were happy to get through to the finish.
Targa Tasmania if the most gruelling event, testing man and machine, fighting the elementsSometimes all goes to plan and sometimes it's just an uphill battle all the way - as it was for the Mustang Motorsport team this year. The highlight is that the Shelby is intact and ready for another run after some minor tweaks to be 100%. Thanks to all the officials, helpers, Aaron for crewing, Mary for navigating, and the team back home who prepared the Shelby GT. And most of all, to my wonderful wife Robyn who supports me - sorry I'm absent today for our 35th Wedding Anniversary, I love you,
Thank you again to all our supporters for the sponsorship and encouragement to help our efforts,
Craig and Mary.
---
GT2 - LEG 6
TS28 Tinderbox - 04.36 (+00.23) 10th
TS29 Pelverata - 07.02 (+00.50) 12th
TS30 Gardners Bay - 03.22 (+00.31) 10th
TS31 Oyster Cove - 06.39 (+00.44) 9th
TS32 Cygnet - 08.08 (+00.53) 11th
TS33 Longley - 07.02 (+00.39) 7th
After Leg 6 (final result) - 14th (+1.47.15)
Keep up with all the latest...


Mustang Motorsport Targa Facebook Page


Targa Tasmania Website


Rally Results Website


Rally Safe - Targa Tasmania
---
---